Posts for tag: dental implant
By Family and Cosmetic Dentistry of Staten Island
May 29, 2021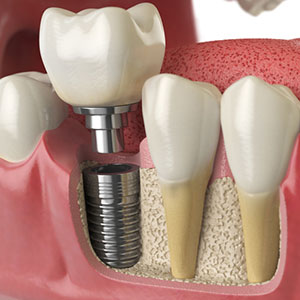 You've lost some teeth, and now you have to decide how to replace them. A fixed bridge or a partial denture are certainly good options. But the best choice today that dentistry has to offer is dental implants.
Implants have exploded in popularity among both dentists and patients, offering exceptional quality in life-likeness and durability. But they do have one drawback that might cause you to hesitate in choosing them: They're usually more expensive than other common tooth replacement systems, even more so if you're replacing each individual missing tooth with an implant.
But before you pass on them for something more affordable, take another look at dental implants. Here are 4 reasons why implants could be the wiser option for tooth replacement.
Life-like and functional. Other restorations can effectively mimic the appearance of real teeth, and they're reasonably functional. But implants score at the top in both categories because they replace more of the tooth—not just the crown, but the tooth root as well.
Bone friendly. Other restorations can't stop the gradual bone loss often caused by missing teeth, and dentures in particular can accelerate it. But implants are made of titanium, a bio-compatible metal that's also bone-friendly—bone cells readily grow and adhere to its surface. This accumulated growth around the implant site helps slow or stop bone loss.
Long-term savings. The integration of bone and implant creates a durable hold that can last for several years, possibly outlasting other restorations in the same situation. Taking into account all the costs—installation, maintenance and possible replacement—that can occur over the life of a restoration, implants could actually cost less in the long run.
Versatile. Implants can be used for more than single tooth replacements—they can be incorporated with other restorations like bridges or dentures to provide better support. Marrying implants with traditional tooth replacement systems can be less costly than implants individually while enhancing benefits like durability and bone strength.
Dental implants may not be right for everyone, particularly those who've experienced advanced bone loss. But if a thorough dental exam shows you're a good candidate, dental implants could be well worth the investment in your health and appearance.
If you would like more information on dental implant restorations, please contact us or schedule an appointment for a consultation. You can also learn more about this topic by reading the Dear Doctor magazine article "Dental Implants: Your Best Option for Replacing Teeth."
By Family and Cosmetic Dentistry of Staten Island
May 09, 2021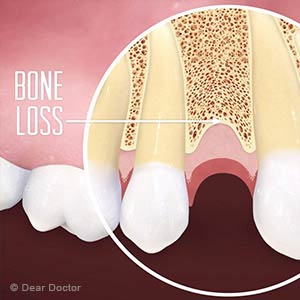 Introduced to the United States in the 1980s, dental implants have quickly become the go-to restoration for tooth replacement. And for good reason: they're not only incredibly life-like, they're highly durable with a 95% success rate.
But as desirable as they are, you may face a major obstacle getting one because of the condition of the bone at your implant site. To position the implant for best appearance and long-term durability, we must have at least 4-5 mm of bone available along the horizontal dimension. Unfortunately, that's not always the case with tooth loss.
This is because bone, like other living tissue, has a growth cycle: Older cells die and dissolve (resorb) and newer cells develop in their place. The forces transmitted to the jaw from the action of chewing help stimulate this resorption and replacement cycle and keep it on track. When a tooth is lost, however, so is this stimulus.
This may result in a slowdown in cell replacement, causing the eventual loss of bone. And it doesn't take long for it to occur after tooth loss—you could lose a quarter of bone width in just the first year, leaving you without enough bone to support an implant. In some cases, it may be necessary to choose another kind of restoration other than implants.
But inadequate bone isn't an automatic disqualifier for implants. It's often possible to regenerate lost bone through a procedure known as bone augmentation, in which we insert a bone graft at the missing tooth site. The graft serves as a scaffold for new bone cells to grow upon, which over time may regenerate enough bone to support an implant.
Even if you've had a missing tooth for some time, implementing bone augmentation could reverse any loss you may have experienced. In fact, it's a common practice among dentists to place a bone graft immediately after a tooth extraction to minimize bone loss, especially if there will be a time lag between extraction and implant surgery.
Bone augmentation could add extra time to the implant process. But if successful, it will make it possible for you to enjoy this popular dental restoration.
If you would like more information on dental implant restoration, please contact us or schedule an appointment for a consultation. You can also learn more about this topic by reading the Dear Doctor magazine article "Dental Implants After Previous Tooth Loss."
By Family and Cosmetic Dentistry of Staten Island
September 08, 2020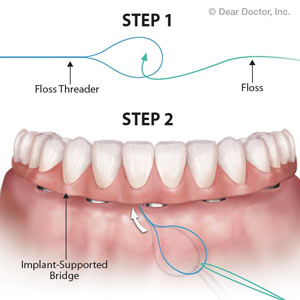 Losing your teeth can be a traumatic experience with serious consequences for your overall health. Fortunately, you have great options for replacing lost teeth that can restore both appearance and dental function.
One such option is a fixed bridge supported by dental implants. While implants are best known for single tooth replacement, they can also be used with other restorations like bridges. In this case, the bridge is screwed into a few well-placed implants to support it.
Implants can provide bridges with more security and support, and without the need to alter adjacent teeth that are commonly used for traditional tooth replacement. They may also slow or stop bone loss because the titanium in implants naturally attracts bone cells that grow and adhere to its surface and provide stimulation to the bone cells during function.
Because of these benefits an implant-supported bridge could be a life-changer that provides years of satisfaction. But we can't simply "set them and forget them": They require dedicated oral hygiene just like natural teeth.
While the bridge materials and implants themselves are in no danger from disease, the same can't be said for the implant's supporting gums and bone. Dental plaque, the main driver in gum disease, can place these tissues at risk for infection that could eventually lead to implant failure.
It's important, then, for you to floss around your new implants to remove any plaque. This differs from regular flossing in which you work the thread between teeth. Instead, you'll have to maneuver the floss between the bridge and gums with the help of a floss threader, a small slender tool with a loop at one end and a stiffer plastic edge at the other (similar to a sewing needle).
To use it, first run 18" of floss through the loop until you get equal lengths and then work the tail of the floss threader between the bridge and gums while holding one end of the floss. Once through, you pull the floss threader through so that the floss is on either side of the bridge. Then grab each end of the floss and pull it snug to floss up and down one side of the implant. Go to the next side and repeat this procedure for all the implants.
As an alternative, you could use an oral irrigator, which emits a pulsating spray of water to loosen and wash away plaque. Either way, though, it's important to floss around implants to get the most life out of your bridge.
If you would like more information on proper care for implant-supported restorations, please contact us or schedule an appointment for a consultation. You can also learn more about this topic by reading the Dear Doctor magazine article "Oral Hygiene for Fixed Bridgework."