Posts for tag: veneers
By Family and Cosmetic Dentistry of Staten Island
June 08, 2021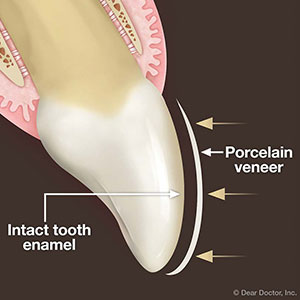 If you're looking for a cosmetic enhancement with a "light" touch, you can't beat dental veneers. These custom-made wafers of dental porcelain are bonded to the front of teeth to mask chips, heavy staining or gaps, revitalizing your smile.
But with traditional veneers, a minimal impact doesn't mean no impact at all. Although they're quite thin—often a millimeter or less—they can still look bulky when bonded to unprepared teeth. Dentists usually remove a small amount of surface enamel to help them appear more natural.
The alteration itself is painless, and only the bare minimum of enamel is removed. Even so, the alteration is permanent—the tooth will require a veneer or other form of restoration from then on. But a new kind of veneer may make it possible to avoid any enamel removal, or much less. These no-prep or minimal-prep veneers are even thinner, between 0.3 and 0.5 millimeters.
With these ultra-thin veneers, your dentist may only perform a little minor enamel re-shaping, particularly the sides of the teeth, to ensure a good fit. As thin as they are—akin to that of a contact lens—no-prep veneers can be bonded to the teeth surface without the need for fitting them under the gum line.
No-prep veneers are ideal for people with smaller than normal teeth, or that appear smaller due to other facial features. This also includes teeth that have worn down from age or teeth grinding, or those that are misshapen in some way. They also work well with people who have a narrow smile where less teeth than normal are visible in the "smile zone."
They can also be used with patients who have oversized or prominent teeth, but it may still require some enamel removal. The only qualification for anyone receiving ultrathin veneers is that their enamel is in reasonably good health.
Because there's little to no alteration of the teeth, no-prep veneers can be reversed. Removing them, though, is no easy task, so you'll still need to think long-term before obtaining one. All in all, though, no-prep veneers in the right setting can still transform your smile without much permanent change to your teeth.
If you would like more information on no-prep veneers, please contact us or schedule an appointment for a consultation. You can also learn more about this topic by reading the Dear Doctor magazine article "No-Prep Porcelain Veneers."
By Family and Cosmetic Dentistry of Staten Island
February 21, 2020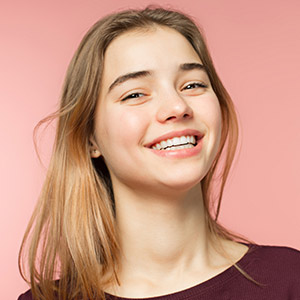 Just like adults, teenagers experience chipped, stained or disfigured teeth. And during a life stage where issues with appearance can be acutely painful, these defects call out for a solution.
And, there is one: porcelain veneers. These thin wafers of custom-made porcelain are bonded to the front of teeth to cover dental flaws. They're one of the least invasive—and most affordable—methods for smile enhancement.
There is one caveat, though: The affected teeth will most likely need alteration. Veneers can look bulky when bonded directly to teeth, so we compensate for this by removing some of the surface enamel. This changes the tooth permanently, to the point that it will always require a veneer or some other form of restoration.
But although this may be a minor issue for an adult, it could pose a problem for a teenager. That's because the pulp, the innermost layer of a tooth containing nerves and blood vessels, is larger in a younger adolescent tooth than in an older adult tooth. Because of its size, it's closer to the tooth's surface. During enamel reduction for veneers on a young tooth, this could lead to inadvertent nerve damage. If that happens, the tooth may need a root canal treatment to preserve it.
If the adolescent tooth needing a "facelift" has already been root canaled or sustained significant structural damage, then altering it for veneers may not be too concerning. Likewise, if the teeth are smaller than normal, the bulkiness of a veneer may actually improve appearance and not require alteration. We'll need to examine a young patient first before making any recommendations.
There are also alternatives to veneers for improving smile appearance. Enamel staining could be enhanced temporarily with teeth whitening. Small chips can be repaired with bonded dental material, or in skilled hands be used to "build" a veneer one layer at a time with no enamel reduction. Although not as durable as regular veneers, these bonding techniques could buy time until the tooth is more mature for veneers.
Whichever path we take, there are effective ways to transform a teenager's flawed tooth. And that can make for an even better smile.
If you would like more information on dental restorations for teenagers, please contact us or schedule an appointment for a consultation. You can also learn more about this topic by reading the Dear Doctor magazine article "Veneers for Teenagers."